by Wolf Richter
Wolf Street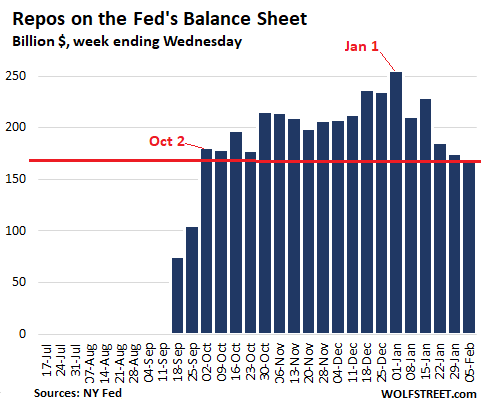 Repo-blowout solved, the Fed is stepping back as lender-of-first-resort.
Total repos on the Fed's balance sheet of February 5, released Thursday afternoon, have plunged by $85 billion from the peak on January 1, to $170 billion, below where they'd first been on October 2:
Under these "repurchase agreements," the Fed buys Treasury securities and mortgage-backed securities (MBS), guaranteed by Fannie Mae and Freddie Mac, or Ginnie Mae, whereby the counterparties commit to buy back these securities at a fixed price on a specific date, such as the next day (overnight repo) or a longer period, such as 14 days (term repo). Repos are by definition in-and-out transactions. When a repo matures and unwinds, the Fed gets its money back, and the repo on the Fed's balance sheet goes to zero.
Continue Reading at WolfStreet.com…