by Pam Martens and Russ Martens
Wall Street on Parade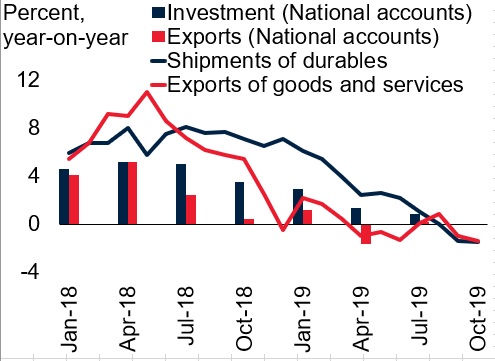 Yesterday the World Bank released a report forecasting a decidedly bleak outlook for GDP growth in advanced economies. The U.S. is expected to grow at just 1.8 percent this year and a further drop to 1.7 percent in 2021 and 2022. That forecast throws extremely cold water on what Donald Trump promised just two years ago.
On December 6, 2017 President Donald Trump stated at a news conference that his giant corporate tax cut (which Congress ended up passing later that same month) could boost GDP growth to "4, 5 and even 6 percent." (See video clip below.) In 2018, U.S. GDP registered 2.9 percent and GDP growth for 2019 is expected to drop to approximately 2.2 percent, according to the Federal Reserve's latest forecast.
Thus, a tax cut that has spiraled the United States' national debt to over $23 trillion, and growing rapidly, has failed to make a material improvement in the substandard growth rate of U.S. GDP since the epic financial collapse of 2007 to 2010.
Continue Reading at WallStreetOnParade.com…