by Pam Martens and Russ Martens
Wall Street on Parade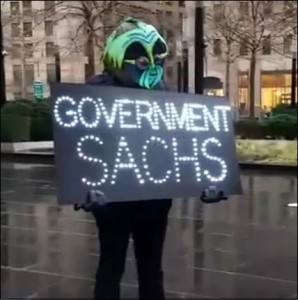 The head of the Federal Reserve Bank of Dallas (Robert S. Kaplan), the head of the Federal Reserve Bank of Minneapolis (Neel Kashkari), the Secretary of the U.S. Treasury (Steve Mnuchin), the President of the European Central Bank (Mario Draghi) and the head of the Bank of England (Mark Carney) all have two things in common: they sit atop vast amounts of money and they are all alums of Goldman Sachs. In addition, the immediate past President of the Federal Reserve Bank of New York, William Dudley, which secretly sluiced over $29 trillion to bail out Wall Street banks during the financial crisis and has now opened its money spigot for trillions of dollars more, worked at Goldman Sachs for more than two decades, rising to the rank of partner and U.S. Chief Economist.
Goldman Sachs has been variously depicted as "a great vampire squid wrapped around the face of humanity, relentlessly jamming its blood funnel into anything that smells like money," by Matt Taibbi of Rolling Stone; or the amoral investment bank that bundled mortgages it knew would fail and sold them to their clients as good investments so that it could make millions betting against them (shorting); or the place where greed became so over-the-top that a vice president, Greg Smith, resigned on the OpEd page of the New York Times, writing that his colleagues callously talked "about ripping their clients off." Smith's bosses were implicated as well: "Over the last 12 months I have seen five different managing directors refer to their own clients as 'muppets,' " wrote Smith.
Continue Reading at WallStreetOnParade.com…