by Pam Martens and Russ Martens
Wall Street on Parade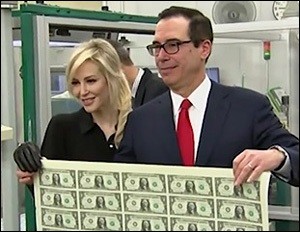 Last Thursday, U.S. Treasury Secretary Steve Mnuchin was the sole witness called before the House Financial Services Committee to answer questions on the state of financial stability in the U.S. Under the Dodd-Frank financial reform legislation of 2010, the U.S. Treasury Secretary also heads the Financial Stability Oversight Council (F-SOC) which is charged with monitoring any threats to the stability of the U.S. financial system in order to prevent a replay of the epic financial crash of 2008 and attendant devastation to the U.S. economy.
During the hearing, Mnuchin was grilled time and again by numerous Republicans and Democrats on what is necessitating the Federal Reserve Bank of New York (New York Fed) to be pumping out hundreds of billions of dollars per week to Wall Street trading houses via the repurchase agreement (repo loan) market.
Continue Reading at WallStreetOnParade.com…