by Pam Martens and Russ Martens
Wall Street on Parade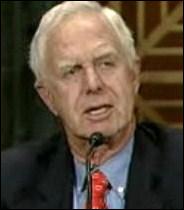 Yesterday, former SEC Chair Arthur Levitt penned an OpEd for the Wall Street Journal, effectively telling Senator Elizabeth Warren to stop criticizing Mary Jo White in public. White is the current Chair of the SEC that Senator Warren publicly asked President Obama to fire this month for her bad leadership.
Senator Warren is a genuine champion of the investing public and understands how the SEC has become a lapdog to Wall Street under White's inept leadership. Levitt is part of the Bill Clinton machine that de-regulated Wall Street and turned it into a massive looting racket in the 1990s through today. It's important to take note of Levitt's effort to muzzle Warren in the pages of the Wall Street Journal. Expect to see more of this coming from a lot more of Wall Street's cronies.
Arthur Levitt was appointed as SEC Chair by President Bill Clinton in 1993. Levitt served until 2001, making him the longest serving SEC Chair.