Bob Moriarty of 321 Gold discusses the benefits of trading on the gold/silver ratio and gold/platinum spread, and the new contracts the CME is launching next month.
by Bob Moriarty
The Gold Report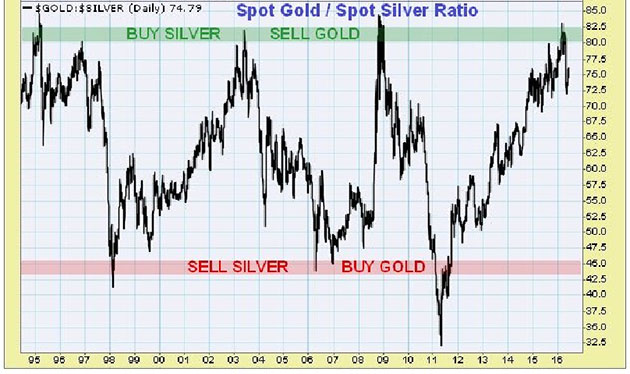 In Nobody Knows Anything I spend some time discussing the silver/gold ratio and the gold/platinum spread. Given an entry at a favorable time, both trades are low risk and high potential with gold and platinum or silver doing nothing more than regressing to the mean.
On September 15th, the CME announced new products coming October 24th including a silver/gold ratio contract and a gold/platinum spread contract. These new contracts will be the lowest cost way to do these trades. As I write, gold has a $286 premium to platinum and it takes 69.3 ounces of silver to buy one ounce of gold. The highest spread between gold and platinum was just after the Brexit vote in late June at $350. The silver/gold ratio hit 84:1 in March. These trades need no brains, only patience.
Continue Reading at TheAuReport.com…