by Pam Martens and Russ Martens
Wall Street on Parade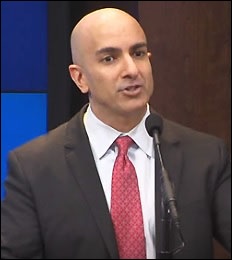 At 10 a.m. this morning, Federal Reserve Chair Janet Yellen will take her seat before the U.S. Senate Banking Committee to deliver her semi-annual testimony on monetary policy. She'll perform the same task tomorrow before what is likely to be a far more hostile House Financial Services Committee, based on the fireworks that were flying in her last testimony there in February.
There will be a shadow wafting over Yellen at both hearings. The shadow is being cast by Neel Kashkari, who took the reins as President of the Federal Reserve Bank of Minneapolis this past January and has effectively transferred the debate on too-big-to-fail banks from the hands of Yellen to his own regional institution. Kashkari has been conducting symposiums and delivering speeches on the issue and has promised a formalized plan to deal with the problem by the end of this year.
Continue Reading at WallStreetOnParade.com…