by Jeff Black and Matthew Campbell
Bloomberg.com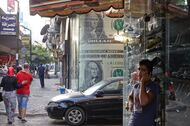 Global central banks sounded the alarm over the risks posed by a British departure from the European Union, as polls continued to show the "Leave" campaign ahead with a week to go before the June 23 referendum.
In a 15-hour relay of comments, the chiefs of the U.S. Federal Reserve the Bank of Japan, the Bank of Canada and the Swiss National Bank all cited the referendum on EU membership as being potentially disruptive to the global economy. The BOJ said central banks are in contact over a so-called Brexit, and the Bank of England repeated its warning on the risks in its final monetary-policy decision before the vote.
We are "closely exchanging opinions with the Bank of England and other central banks," BOJ Governor Haruhiko Kuroda told reporters in Tokyo on Thursday, adding that his institution can respond to any potential surge in dollar-funding costs.
Continue Reading at Bloomberg.com…