by Pam Martens and Russ Martens
Wall Street on Parade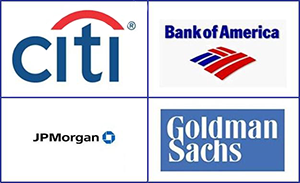 The anti-establishment trend has picked up its pace this morning, showing no signs of abating. Around 2:30 a.m. New York time, Wall Street traders were stunned by the news that U.K. voters had backed leaving the European Union by 51.9 percent versus a remain vote of 48.1 percent in the anxiously anticipated Brexit referendum held yesterday.
The outcome slammed markets – leaving many wondering if big banks and hedge funds were going to take heavy losses this morning for placing wrong way trades. Futures markets were doing little to reassure that this wasn't the case with futures on the Dow Jones Industrial Average showing a loss of over 553 points before the market opened and major Wall Street banks like Citigroup, Morgan Stanley, Bank of America, and JPMorgan Chase off by 6 to 7 percent in premarket trading.